Massage From Managing Director Desk
Maa Mahamaya Sahkari Shakkar Karkhana Maryadit Ambikapur is situated at Village - Kerta, Tahsil - Pratappur, Dist.: Surajpur (Chhattisgarh) Pin 497223. The factory site is on the way of Ambikapur Pratappur wia Kalyanpur Main Road. Nearest Railway Station is Ambikapur about 30 km and Airport is Darima about 40 km. The factory is well connected by Tar Roads to towns & cities Ambikapur as 28 km from factory.
A Registration Number of factory under the Chhattisgarh State Societies Act is Registration No/DR/AMBIKAPUR/2121 Date : 15/10/2006. The factory started Cooperative its operation from Season 2009-10 with the initial capacity of 2500 TCD with 6MW power plant is also installed by the Chhattisgarh Bio mash based (Bagasse) electricity board in the premises of factory
In year 2022-23 Maa Mahamaya Sahkari Shakkar Karkhana Maryadit Ambikapur will produce Co-Gen power 6 MW from bagasse (sugarcane by product) for captive consumption and sale to the Chhattisgarh state grids in India. The Bio energy produced from burning Bagasse is a renewable energy that provides a significant reduction to greenhouse gas emissions with green revolution.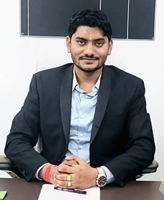 Akashdeep Patre
Managing Director

To create a competitive advantage for all stakeholders & farmers through effective best people management.
" Significant contribution to the development of Chhattisgarh"